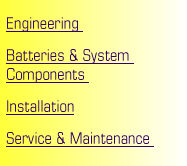 Installed to NEMA, IEEE, and other standards to protect your insurance claims
Turnkey to subsystems

Installed at any site across the US
Plus, SAC can optimize sites installed by other vendors that might not be performing to expectations.

Once SAC engineers your solution, and commission the equipment, installation begins. Factory-trained personnel supervise every aspect of the installation process, meet critical dates, generate base data, and insure manufacturers warranties are in place.

Plus, SAC technicians have years of real-world experience. This enables them to solve problems and take initiative to get systems up and running quickly and smoothly.